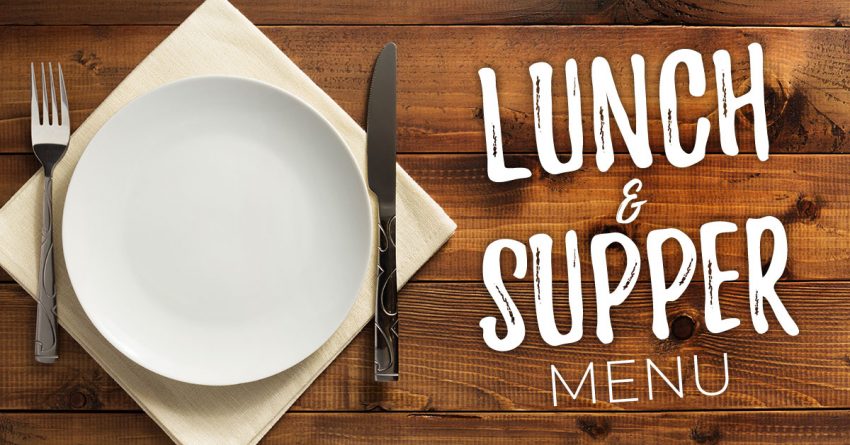 Lunch & Supper Menus
We here at the station love to eat, and that's why we are happy to let you know about some of our local friend's menus around the island!
Lunch Menu:
At the Ugly Mug Café & Emporium, 1290 Kings Rd. Sydney River, they have "Java Blend" coffee, "Just Us" tea and hot chocolate. Fresh baked goods daily plus a wide selection of home decor, fashion accessories, apparel, and new trendy items. The Ugly Mug, is open Monday thru Friday 7:30-4:00 pm, Saturday, 9-4 pm and Sunday 10-3 pm.
Tom & Ett's Kitchen, past the roundabout on George Street. Check out their AMAZING menu – Delicious pressure fried wings in a southern style buttermilk marinade, Poutine with home cut fries, sensational burgers and crispy hand battered deep fried fish. They are the HOME OF the BEST donairs, Southern Fried Chicken, Marvelous Mini Cheesecakes and the Nathan's Famous Coney Island Hot Dogs. Tom and Ett's – Where you never go Hungry!!!
The Celtic Junction Bar and Grille in Casino Nova Scotia is the place to enjoy a great menu of delicious pub style foods for lunch or anytime.  They also have weekend features Fridays and Saturdays from 5pm until 12am.  Celtic Junction is also home to live entertainment every Friday and Saturday night from 8pm-11pm.
New summer drink menu just launched… fun frappes, summer spritzers, and flavoured iced coffee.  Great for kids, or make it an adult beverage with our 19+ add ins.  As always, gluten free items available, freshly made paninis, and locally roasted coffee… Have a blast creating great memories that last a lifetime. Check out full details on Facebook! Fired Creations… paint, sip, snack, relax.
The Herring Choker Deli in Nyanza is a destination spot to take a break and enjoy satisfying sandwiches and hearty soups… but the Herring Choker Deli is equally known for their Anti-Pasto and Bruschetta. Don't forget to finish off your meal with some of their fresh, delicious, home-style baked goods. See you at the Herring Choker in Nyanza. YUM!!!!
---
Supper Menu:
Bella's from the Sea is opened daily from 11am to 8pm.  They have food delicious selections From the sea, 100% beef, and a selection of poutines.  Find them in Downtown North Sydney at 127 Queen Street.  Bella's from the sea now open.
Today at Dairy Queen 430 Grand Lake Road and Dairy Queen 1070 Kings Road – come in now and get the Backyard Bacon Ranch Burger. 2 or 3, 100% seasoned real beef burger patties with Applewood Smoked Bacon, ranch honey BBQ sauce and crunchy onion rings. DQ – Happy tastes good!
Since 1989, Kenny's Pizza has been making authentic Italian style pizza in Cape Breton with 9 locations. With convenient ways to order and pay, Kenny's is always ready to serve: Take out or Delivery with Debit at the Door service – Order online, by phone, in-store and in advance. Kenny's Pizza has 13 locations throughout Nova Scotia and offers a wide variety of pizzas and toppings. For those looking not only for pizza but also for other delicious food options, Kenny's also offers garlic fingers, donairs, subs, burgers, platters, wings, and great appetizers.
MeltWich, located in the Prince Street Plaza, is known for their love of cheese.  They are committed to using only top quality ingredients and love bringing you cheese in all its ooey-gooey goodness.  Don't forget to check out their daily specials.
Make your sports night in Sydney, Nova Scotia a great night out with friends and family at Don Cherry's Sports Grill in Sydney NS. Don Cherry's Sports Grill Sydney have 22 TVs, big screens, and table TVs so there is no way you'll miss a second of the action! If you are looking for the best pub in Sydney NS to watch your favourite hockey team or baseball team, Don Cherry's is the best place to eat out in Sydney NS. You can expect great food specials, a friendly atmosphere, and quick service each and every time. Make Tuesday and Thurs wing nights your night out with your partner, family, friends or coworkers. We have mouth-watering grilled steaks, a great selection of hearty burgers, sandwiches and cold beer. Families, sports teams and corporate groups all enjoy the fun and friendly atmosphere at Don Cherry's Sports Grill in Sydney NS, a fine Cape Breton dining out experience! Stop by on Tuesday and Thursday any time for our famous wing nights! You can also drop in for a midday meal and take advantage of our daily lunch specials in Sydney NS. Don Cherry's Bar and Grill in Sydney NS has something for everybody including a great family dining experience.