The 13th annual Doctors Nova Scotia Youth Run
Event Navigation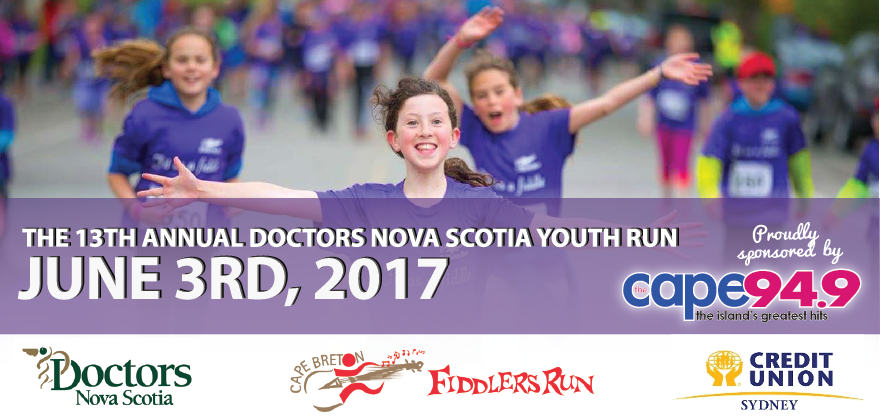 Sydney, N.S. — The 13th annual Doctors Nova Scotia Youth Run, organized by the Cape Breton Fiddlers Run, is in full swing and set to take place on Saturday, June 3rd at the Joan Harriss Cruise Pavilion. Activities start at 9:30am, with the run beginning at 10:00am. Registration is $10 plus a $2 online fee, which can be accessed on our website at www.capebretonfiddlersrun.com. Participants run either a 2.1 km route (elementary) or a 4.2 km route (middle school). There is also a Tiny Tots Trot for preschool children.
The early registration deadline is May 12th. As the youth run has gained so much attraction over the past number of years, participants are strongly encouraged to register early. All participants that register before May 12th will be guaranteed a t-shirt and bib. This year there is another incentive to register early. Framework Cycle & Fitness has donated a kids bike worth $300.00 to the Cape Breton Fiddlers Run to be given away to one of the participants of the youth run. To qualify to win the bike, people are required to register online before May 12th.
"We want to thank our sponsors, especially Framework Cycle & Sport for providing us with a kids bike to be given away to one lucky participant. We hope this bike will encourage people to register early for the Doctors Nova Scotia Youth Run," says Katherine MacQueen, Chair of the Doctors Nova Scotia Youth Run. "The Youth Run is a great opportunity for kids to get out and get active" adds Katherine.
For more information, visit www.capebretonfiddlersrun.com, join our Facebook page- Cape Breton Fiddlers Run, and follow us on Twitter @CBFiddlersRun