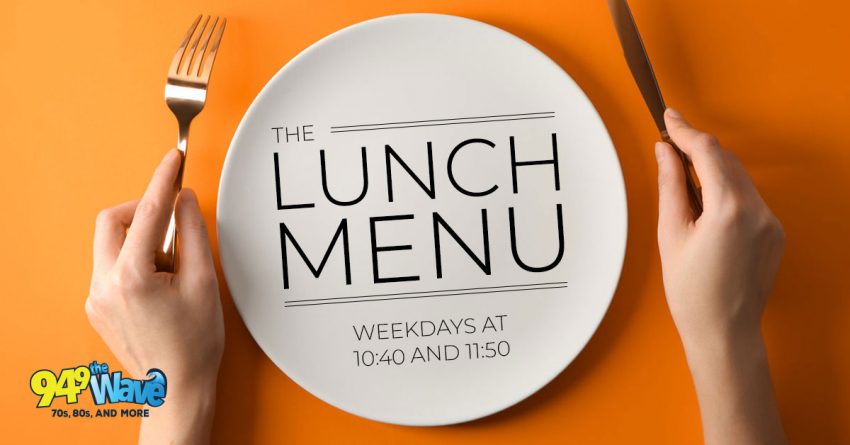 Daily Lunch Menu
We here at the Wave love to eat, and that's why we are happy to let you know about some of our local friend's menus around the island!
Tom & Ett's Kitchen, Formerly My Father's Kitchen, 1678 Louisbourg Highway (just past the roundabout on George Street), open 11 am-9 pm Monday – Sunday. Come in and check out our great daily specials every day. The Monday Special is a 2pc Chicken Snack with a leg and thigh. Served with Home Cut Seasoned Fries for only $9.99. The Tuesday Special is 12 Breaded wings with our delicious southern-style buttermilk marinade, special spiced flour then pressured fried to lock in the flavour just for you!!! Hot, Medium, Mild and West Indian Style for only $9.99. The Wednesday Special is a Jr. Donair – Thinly shaved Cape Breton Island Greek Donair Meat for only $4.99. Add Cheese 1.99. The Thursday Special is a quarter-pound seasoned hamburger patty. Topped with Ketchup, Mustard, Relish, Tomato, Red Onion, Pickles, and Lettuce. Includes a Jr. Poutine for only $10.95. It's Fish Friday!. Your choice of 1pc Fish and Chips, Fish Tips and Fries, or Fish Burger and Fries for just $9.95! It's Spaghetti and Meatball Saturday! A classic pasta special for only $9.95. Add extra meatballs for an extra $1.50 each. They have the best donairs and Southern-style deep-fried chicken on Cape Breton Island! Stop by today! Call us at 902-270-2343 or check us out on Facebook!
 Montana's BBQ and Bar located on Welton St has a lunchtime rush trio for just $9.99. Pick a soup, pick a salad and pick a sandwich, all 3 items just $9.99 and get a cookie to go! Available Monday to Friday 11:30 to 3 pm only at Montana's BBQ and Bar on Welton St in Sydney.
Joe's Pizza World, 324 Commercial Street, North Sydney – come to check out their great everyday lunch specials from noon until 3 PM – Lasagna, Spaghetti and Meatballs, 9″ Combo Pizza, 1/2 Sub or a Hero – each under $10 and includes a pop. Also, check out their all-day special – a large combo pizza for $17.25. All prices include the tax. Eat-in or take out. Give them a call at 902-794-7946.