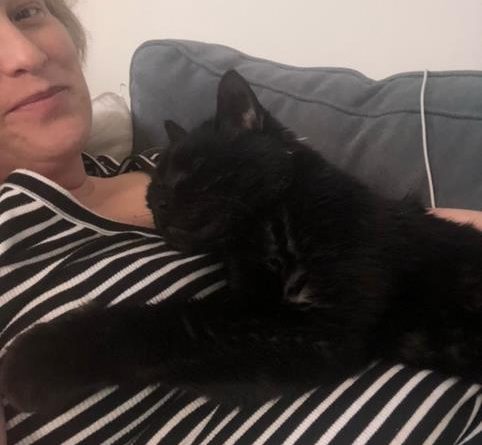 Tinsel likes Wednesday!
Tinsel (Tucker) Kerr is a male cat who was found and brought to the SPCA and then AMC. He was diagnosed with Diabetes and occasionally loses control of his hind legs. He is super chill and has been known to chase his tail once or twice. He snores really loudly and has no idea about personal space. Something him and his human have in common. His interests include chasing his tail twice a week, sleeping, eating and cuddling. Dislikes are dry food, getting his sugar checked, and his leash. This is his story…
So Tinsel knows he's kind of a big deal. I think deep down, he can feel how special he is. It may have gone to his head though. He's turning into a bit of a diva, always looking for attention. For instance, I've been switching between crutches and a walker for the majority of my recovery time. I had reconstructive surgery, and it's been a journey. My apartment isn't the biggest and throw some walkers, crutches, a 7 year old and 3 cats in, and it can get a little crowded. Whenever I go to the kitchen, Tinsel is there. Waiting. for food. And you would think he would move out of the way for his mom, who provides the food, but nope. He just plops his adorable butt on my black and white tile floor and does not move. Even if I go close with the walker, he doesn't budge. It stresses me out, and I'm sure I'm way more stressed out than him. Now, you would think being the human, I would move him so I can go about my business. Newp!!! I will try my hardest not to disturb his royal highness while I try and maneuver myself, walker and all. I'm not sure where Tinsel spent the majority of his life, but I'm so glad he's with us, even if he is getting too big for his britches.