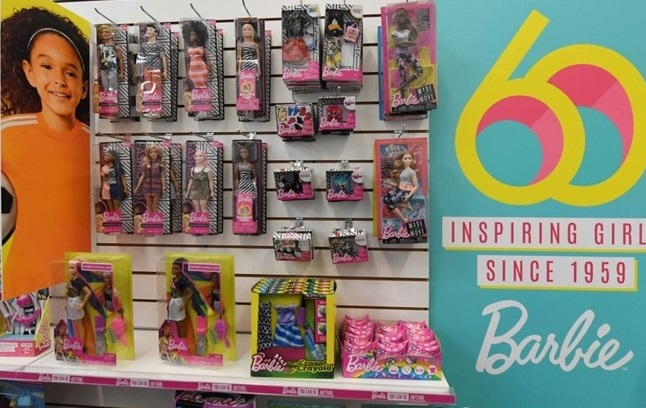 Barbie Turns 60 on Saturday!!!
She is turning 60 Saturday and still doesn't have a single wrinkle. Blonde or brunette, slender or curvy, black or white, princess or president, Barbie is a forever favourite for young girls.
The first Barbie doll wore a black and white zebra striped swimsuit and signature topknot ponytail, and was available as either a blonde or brunette. The doll was marketed as a "Teen-age Fashion Model," with her clothes created by Mattel fashion designer Charlotte Johnson. The first Barbie dolls were manufactured in Japan, with their clothes hand-stitched by Japanese homeworkers. Around 350,000 Barbie dolls were sold during the first year of production.
Mattel estimates that there are well over 100,000 avid Barbie collectors. Ninety percent are women, at an average age of 40, purchasing more than twenty Barbie dolls each year. Forty-five percent of them spend upwards of $1000 a year. Vintage Barbie dolls from the early years are the most valuable at auction, and while the original Barbie was sold for $3.00 in 1959, a mint boxed Barbie from 1959 sold for $3552.50 on eBay in October 2004.[84] On September 26, 2006, a Barbie doll set a world record at auction of £9,000 sterling (US$17,000) at Christie's in London. The doll was a Barbie in Midnight Red from 1965 and was part of a private collection of 4,000 Barbie dolls being sold by two Dutch women, Ietje Raebel and her daughter Marina.
More than one billion Barbie dolls have been sold since she made her debut at the American Toy Fair in New York on March 9, 1959. She was invented by Ruth Handler co-founder of Mattel, and was named after her daughter Barbara